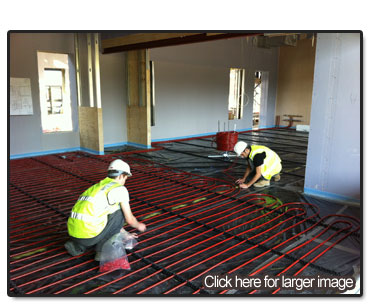 Underfloor Heating
Modern warm water underfloor heating gives a near perfect room temperature profile between floor and ceiling due to a balanced combination of radiant and convected heat. Underfloor heating uses radiant heat which ensures you feel comfortable even at a lower air temperature than that produced by a conventional radiator heating system.

Conventional radiator central heating producers the majority of its heat by convected air. Convected air produced by radiators rises making the ceiling the warmest part of the room. Underfloor heating produces 50% of its warmth using radiant heat, this means all the floor is evenly heated, this is then absorbed by objects (sofas etc) in the room. Radiant heat gives you the ideal comfort conditions warm feet and a cool head.

Benefits of Underfloor Heating
When you walk into a room controlled by underfloor heating, you will be able to feel the difference almost immediately. Underfloor heating can be used with almost any floor covering these include carpet (below 1.5 Tog), lino, hardwood, laminate and stone.

Stone based floor covering give the best results because they allow the heat to transfer easily. Unlike carpet an underlay which has insulation properties and does not transfer heat as easily as stone or tile.
Home | Under Floor Heating | Wet Screed | Dry Screed | Wet Screeding | Flowing Screed | Dry & Wet Screed | Contact Us